Upper Macungie Township Patio and Fire Pit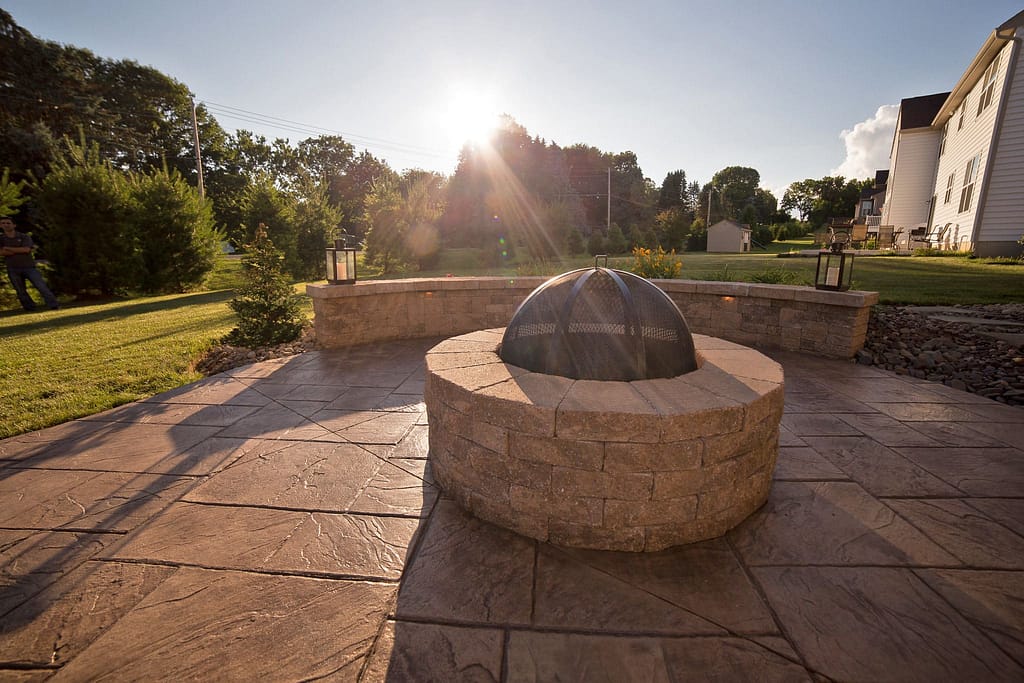 SITE ANALYSIS
Our clients reached out to us because they wanted to update the front of their house with a new walkway and fresh new plantings.  They were interested in seeing a design that showed the walkway incorporated with landscaping beds.  The house and garage has a large brick facade with a section siding in between.  The current walkway was a straight narrow walkway which connected the driveway to the house.  Two large trees, which they wanted to keep, are in front the house.  One is quite large and is about 50 or so feet from the corner of the house. The other tree sits about 25 feet in front of the front entrance of the house.  Combined, both trees provide complete shade to the front of the house.  They also had overgrown foundation plants that were getting old and starting to look aged.
FRONT YARD WISHLIST
They wanted the walkway to be a bit wider and decorative in either pavers or stamped concrete.  They wanted a more modern looking walkway, with curves and a landscaping section to put a small seating area.
Updating the landscaping, they wanted a variety of colors that will last throughout the year.  Their entire side and backyard is filled with annuals and flowering shrubs so we suggested plants that would establish well and maximize the seasonal colors.  Once established they would not have to worry about watering as much.
CURB APPEAL
We designed the walkway in serpentine style with a flare ending near the top of the driveway.  The walkway flares to a squared off landing area that leads to a small porch under an overhang on top of the front door.  The only plants we kept from the existing landscape were two Azaleas, one located at each corner.  These two plants, since they were mature and still looked good, were trimmed. They establish a boundary for the new landscaping.
On the other side of the house, our first concern with the landscaping was to add height for balance.  We added a multi stem Japanese Maple several feet away from the walkway and created a large planting bed with plants that will establish well in full sun but are able to take some shade as the tree matures.
The area between the walkway and the house gets a few hours of sunlight.  We used plants that would be able to do well with these conditions:  Boxwoods, Weigela, Spirea and Russian Sage.  The area under the tree we used Andromeda, Azalea, Hosta, Bugloss, Astilbe, Hydrangea, and Japanese Forest Grass.  We used mulch for majority of the beds and added a large decorative Delaware River stone to highlight certain areas.